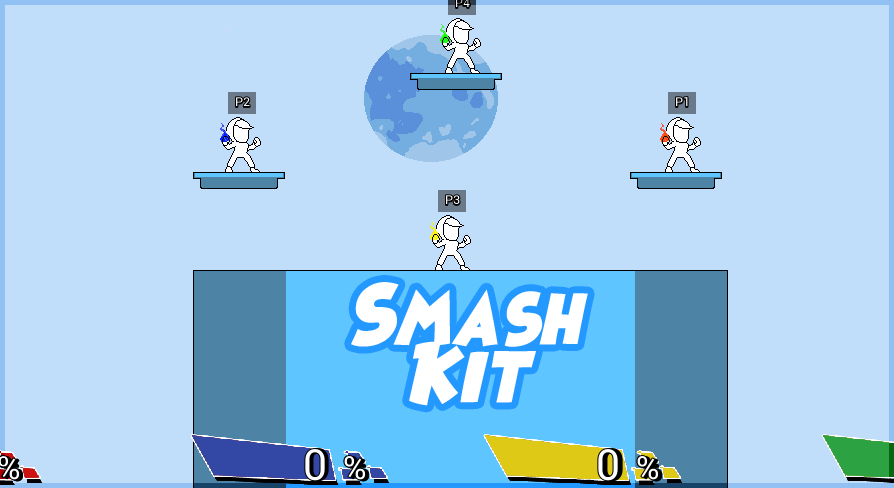 Smash Kit
A downloadable unreal template
Get this unreal template and 1 more for $16.48 USD
View bundle
FOR USE IN UNREAL ENGINE 4!
Youtube:
NOTE: An entire refactor is underway and expected to be complete in a few months. The price will be raising when the refactor is complete. Purchase now to receive the refactor at a heavily discounted price :)

Last Update:
-Shared Camera system with customizable zoom level, zoom speed, movement speed and min/max movement

Join the support discord to help suggest additions or features! - https://discord.gg/dTpRpV4
Current Features:
Character with Knockback calculations
Display Player number or name above head
Different colour materials for alternate appearances
Directional input based normal attacks
Directional input based special attacks
Directional input based chargeable heavy attacks
Shields, Shield breaks
RollDodge
Airdodge
Frame Events to handle different abilities based on paper2d Flipbook animations
Wall slide mechanic
FreezeFrames (ImpactStall)
HitStun (time you can't act besides Directional Influence after being hit)
Basic 2D projectile
Shared Camera System
Hitbox actor for combat
Tracks which frame of animation it is active and not active
Can collide with other hitboxes
Basic Map with platforms you can fall through
Blast zones on all sides and corners of map
In-game UI featuring Percent based damage on characters
1-4 Local Players in a match
Planned Features:
A.I Controlled Bots
Character Select Screen
Team Battles
Results/Score screen
Adjustable Lives
Sudden Death options
6 Button Character example like traditional fighters
3D/2.5D character and map example
Number of Blueprints: 25
Input: Gamepad, Keyboard, Mouse
Network Replicated: No
Supported Development Platforms: Windows/Desktop
Supported Target Build Platforms: Windows/Desktop
Documentation: Coming soon!
Important/Additional Notes: Support discord - https://discord.gg/dTpRpV4
Support Email: brendanmilleryoung@cachegrabstudios.ca
Purchase
Get this unreal template and 1 more for $16.48 USD
View bundle
In order to download this unreal template you must purchase it at or above the minimum price of $9.99 USD. You will get access to the following files:
PlatformFighter 4.17
62 MB
PlatformFighter 4.19
62 MB
PlatformFighter 4.20
63 MB